Ashley stayed over on Friday. On Saturday we actually planned to wake up at 6.30am to take photos with the sunrise. But..... We couldn't wake up. So we went to take photos at about 1pm instead! Ugh :-(. I didn't really like the photos. Shouldn't have worn my boots 'cause they made me look super short/fat/gross in the photos!!!! Oh well. Here're the photos + some gifs of the stayover: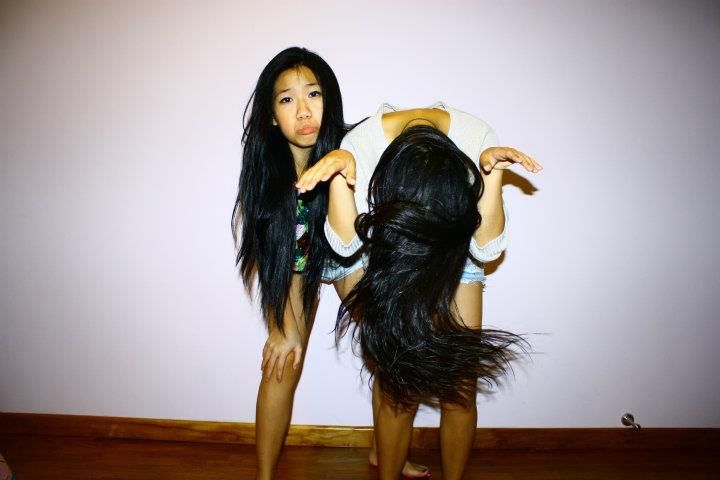 Love my hair here hehehe so cool.........
Japanese mafia
HAHAHA RETARD i HAD to share this with you guys
I love mikey.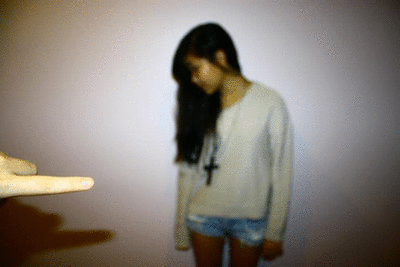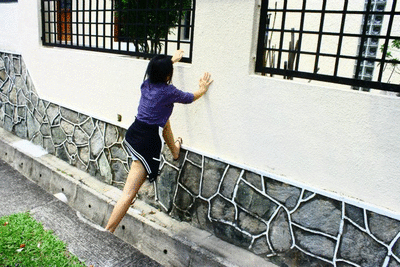 Anyway, i want to tell you guys about this bitch that scammed my money!!!!!!!! Her facebook account name is
Amylia Preloved
.
1 month and three days ago(Aug22) i paid her $48.90 and ordered a baseball jacket from her in Navy. She said it would arrive in arnd 2 weeks. SO. After two weeks i went to ask her about it again, then she told me there was a delay and it would arrive two weeks later!!!! Then after a week she told me that the supplier scammed her, etc then i said i wld report to the police n stuff then apparently after like a very long talk she suddenly told me Oh! No it's not your item! Your item is from another supplier the one that got scammed is another one! Yours will arrive this Sunday! OH WOW OKAY THEN. So i ignored it and waited till Sunday.... But she took another week to tell me my jacket has arrived. So yesterday she send me a msg on fb. HOWEVER, it wasn't the one i ordered!!!!!
I quote her words: "ellena, ur jacket is here. but my supplier, only took in grey / white because navy was out of stock and she didnt inform me. i will mail it on monday morning. registered right?" Not even a sorry, or anything. Then i was like, no, i ordered navy.
Then she tell me: "then my supplier said u have to wait one mre month for the exchange :(it was her mistake.)" So i was like "What. Then i'd rather have a refund."

She said:"She said she can only give refund of $20. because she will be at lost. because she paid extra $10 for shipping and her supplier in korea, didnt inform her at all.
the supplier is also handling a very hectic job with over thousand of orders. hope you understand."

Then I said: "That's not really my problem, i didn't order from her. I ordered from you. Therefore i'm telling you, i want my refund of $48.90 or my item. I'm sorry."
She then said: "She's the supplier. It was her mistake. NOT MINE. i gave exact orders. Why do u always want to blame me? What do u expect if she gave the supplier the wrong order? Its not me who order straight away to the factories in korea. Its okay, go ahead to a police a report. U want ur item, then wait for another month. If you cannot wait, then its not my problem anymore." EXCUUUUUSE ME?!?!?! She's YOUR supplier. Is she mine? NO. I ordered from YOU. So don't you think you should take some FUCKING RESPONSIBILITY?!?!??!?!!??!?!?! + "then it's not my problem anymore." Wow. WOW. Thanks SO much for your FUCKING GOOD SERVICE!!!!!! Proves how much you care for your customers
:-))!!!!!!!!
So i just gave in and said that i wld wait another month.
BUT?????? She send me again:
"My supplier said, it is out of stock. You can get a refund of $48.90 - $13 the extra shipping fee that was needed = So u will get $35.90 tmr! ur account number miss?" What. WHAT!?!? WHAT $13 SHIPPING FEE???? I did not know about a $13 shipping fee at ALL.
So i said: "What. I waited for so long and i'm getting back $13 less than what i paid? I ordered from u, not frm ur supplier. I demand my full amount of $48.90. You should take responsibility.
+ u got the grey one, u can go sell that too at 48.90."
BUT SHE SAID: "Yes. I was supposed to charge u an extra of $13. But i paid for you. So sorry. Take it or leave it. I don't wanna spend my time on this. Because its not worth my time. This the risk of getting things overseas. This thing is getting out of hand. Im really not gonna argue anymore."
Excuse me?
You paid for me $13? DID I ASK YOU TO PAY FOR ME? SO U JUST DEDUCTED $13 FROM MY REFUND?? If the $13 was really included i HIGHLY DOUBT that you would pay for me because the reason you created the preorder was for you to EARN money right?! Not to LOSE money?! So why the fuck would you pay for me $13? That's a straight up lie. And a stupid one at that.
She totally just scammed my $13!!!!!!!! What a dumbfuck seriously. These type of people should be sent to jail!!!!!!!!!!! UGHGHHGHGHGHHHH i am so angry.
"Fuckers should be sent to jail" ^_^